ACNEG
The Straits of Gibraltar
Swimming Association
Since 1999, our mission has been to promote, organize, control and carry out open water swimming crosses in order to unify criteria and ensure the smooth running of the event in close collaboration with the maritime authorities.
MORE THAN 20 YEARS OF EXPERIENCE
HUMAN TEAM
A highly qualified staff, greatly experienced in accompanying swimmers and with a profound knowledge of the area, guarantees a high degree of success depending on the qualities of the swimmers.
CERTIFICATION
At the end of the crossing and once verified by our team that the swim was in compliance with the established rules, the Association will provide the necessary documentation to certify the crossing. This documentation is accepted by official international organizations.
And participants will be included in the official list of swimmers who have crossed the Strait of Gibraltar in its different modalities.
FOLLOW THE CROSS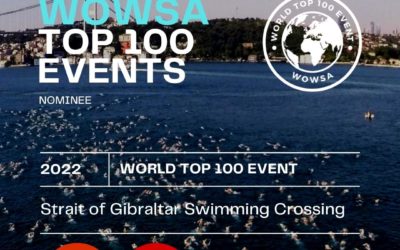 "The Strait of Gibraltar nominated by WOWSA" AN INTERNATIONAL RECOGNITION IN OPEN WATER SWIMMING Swimming across the Strait of Gibraltar has been chosen to appear within the 100 best events in the world of open water swimming. This event has been organized by the...